Meeeeeeeeeeee!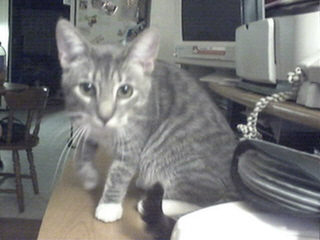 Look at that sexy cat.. Meooow! Hi Clyde!
So you've decided to be nosey and check out what I'm all about, didya? Punkass... anyway, hehe, I promise not to bore you.. well, I promise not to make you fall asleep at your keyboard at least. ;)
Aaaaanyway, who am I? What am I? That's easy; I'm Ashlee. Can't get no better explanation than that. I adore Green Day, I love sexy blond Canadians, the color red and the smell and taste of cinnamon. Nothing would be better to me than a sexy blond Canadian who smells like cinnamon, likes red and adores Green Day, but nothing that perfect can ever exist.
Other than that, I like movies. And music. And wrestling when it doesn't suck, like it does now. As psychotic as it may sound, I like serial killers, too. =P Criminology rules! So does cryptozoology which brings me to something else. Funky little creatures who's existence is skeptical are so cute. They really are. Well.. not Bigfoot, but everything else. Biggy's just too... tall for me. Okay, must stop babbling about that...
Back to movies. I'll watch anything so long as it isn't a romance movie or really sappy drama. Sci-Fi and Action are the best. =) Hey, I'll even be nice and tell you what movies I own, heeheehee. In no particular order...
Assassins
The Haunting of Hell House
Virtuosity
L.A. Confidential
Kiss the Girls
Wayne's World
Wayne's World 2
Jurassic Park
Jurassic Park 2
Jurassic Park 3
The Net
subUrbia
Half-Baked
Dawn of the Dead
Deuce Bigalow: Male Gigolo
Mallrats
Labyrinth
Home Alone
Home Alone 2
There's Something About Mary
Waterworld
Se7en
12 Monkeys
... and probably a bunch more I'm forgetting, but, ah, whatever. Let's go to the music collection, shall we? ;)
Green Day - 1,039/Smoothed Out Slappy Hours
Green Day - Kerplunk
Green Day - Dookie
Green Day - Insomniac
Green Day - nimrod.
Green Day - Warning
Green Day - International Superhits!
Orgy - Candyass
Orgy - Vapor Transmission
Dope - Felons and Revolutionaries
Godsmack - Godsmack
Eminem - The Slim Shady LP
Family Values Tour '98
Powerman 5000 - Tonight the Stars Revolt!
Adam Sandler - What's Your Name?
WWF: The Music Volume 4
P.O.D. - Satellite
MTV Celebrity Deathmatch
Creed - Human Clay
Sublime - What I Got...
Adema - Adema
Sublime - Sublime
Blink 182 - Dude Ranch
Papa Roach - Infest
Smashing Pumpkins - Melancholy and the Infinite Sadness
The Wallflowers - Bringing Down the Horse
Bush - Sixteen Stone
Bush - Razorblade Suitcase
The Simpsons - Songs in the Key of Springfield
Kid Rock - Devil Without a Cause
Slipknot - Iowa
Static-X - Wisconsin Death Trip
... and some others.. and a lot of burned discs with 20+ different songs on 'em.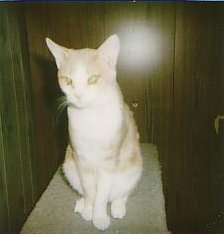 Alien! My baby!
If you couldn't tell by now, I love animals. I've got a bunch of cats and a Bassett/Lab mix named Spike. He's a fat, loveable beast. I'm not the only one who has animals in my house - in fact, I'm surrounded by 'em, but hey, the more the merrier, right? Well.. there's a limit to that, I believe.
Other than music, movies and animals what is it I do? Why, I sleep! Well, err.. no. Not all the time. ;) Video games! Yes, some may say they desensitize you to violence and may even kill your brain cells! I say - bring it on! =D I'm a Mario-Sonic-Spyro freak in the land of video games. Mwahahaha!
Okay, I believe I'm done babbling, for now, at least. I know you've enjoyed reading this just due to the fact I'm so.. darn... cute! Mwah! ;)=)
And to guide you out, will be Miss Beverly Biscuit.